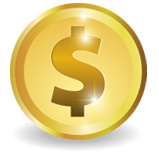 <<< BACK TO HOME
Play the Zip & Win Game to find the golden coin.
The golden coin can appear next to any facility, anywhere across the country. Enter a zip code search the facilities displayed and if you see this Golden Coin next to a facility name then click it to win a $5 gift card for one of our retailers listed on the drop down list. MUST BE 18 OR OLDER TO PLAY
The search is limited to a ten mile search radius from the zip code you entered. Once a coin is discovered and redeemed our system randomly selects a new facility from one of our over 16,000 facilities listed to place the coin next to. So you never know where the coin might pop up next. RecyclerFinder.com employees and family are not qualified to play. Game may be terminated at any time. Over 100 coins available!
Below is a list of the retailers you can redeem your card for. Some Gift Cards may or may not be redeemable online. Not all retailers listed are available in all areas.